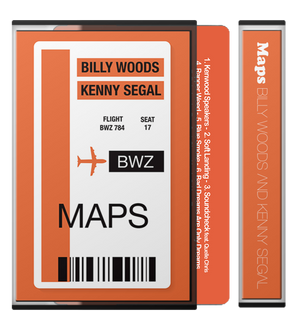 backwoodzstudioz
billy woods x Kenny Segal - MAPS [CASSETTE]
Sale price Price $17.00 Regular price
DETAILS:  The Maps cassette is a clever flip of the airline motif of Maps by Ashes57; it includes an orange shell with white imprint and a beautiful 8-panel fold-out J-card. Purchase of cassette from Backwoodz includes digital download delivered on street date. Cassette starts shipping after release date, May 5 2023.

Maps
is the new album from NYC rapper
billy woods
and LA producer
Kenny Segal
, their first full collaboration since 2019's
Hiding Places
. Four years after that landmark record, the duo have reunited with a vengeance.
Maps
is a story of the road, or roads, taken and untaken; of living the dream and dreaming of another life. It is an album about trying to find your way home, after making your home wherever you lay your head.
"Kenny and I made more songs together before
Hiding Places
than we did after," woods says. "I think we only collaborated once over the last four years and although we didn't talk about it, I think we wanted to let that energy build again. Neither of us wanted to make Hiding Places 2. We needed to go on other journeys, artistic and otherwise, to come back and do something fresh."
Produced in full by Kenny Segal,
Maps
features
Danny Brown
,
ELUCID
(Armand Hammer),
Shabaka Hutchins
,
Sam Herring
(Future Islands),
Quelle Chris
,
Aesop Rock
,
Benjamin Booker
, and
ShrapKnel
. Segal moves effortlessly through styles but everything is underpinned with deep basslines and mean drums laid down like railroad tracks. Weaving between poignant memoirs, deadpan humor, and incandescent bursts of surrealism,
Maps
cements both artists' place amongst the best of their time.