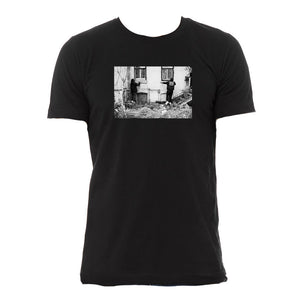 backwoodzstudioz
Armand Hammer - Paraffin Reissue [Shirt]
Sale price Price $25.00 Regular price
ARTIST: Armand Hammer
ALBUM: Paraffin Reissue
FORMAT: T-Shirt
NOTES: This is the Armand Hammer Paraffin Reissue T-Shirt. Shirt is a nice soft premium shirt printed with photography from Alexander Richter from Paraffin on the front and Armand Hammer's logo on the back under the neck. Printed with 1/C plastisol ink on a Bella+Canvas unisex crew neck t-shirt. Starts shipping on December 11.
SHIPS: Starts shipping on December 11. You will receive a confirmation with tracking when your order is processed for shipping. Make sure you are receiving emails from Backwoodz. Please allow 5 days for shipping from release date. Download link will be emailed to purchasers on December 11.
DESCRIPTION
A distillate, by it's very nature, is purified, clearer than that which is left in it's wake. When we talk of finding the heart of something, what to make of the rest, of everything that is flayed away searching for an imagined greater truth. Then comes Victor Frankenstein in the boneyard, with a Tesla coil and a wooden wagon with a creaky wheel. Looking for freshly turned earth. Chances are they're only a few feet deep, it's cheap work, and they get lazy, same as anyone. The spade sinks right in, the ground is soft. It's been a wet spell. The townspeople will be raging soon, but tonight, they sleep.