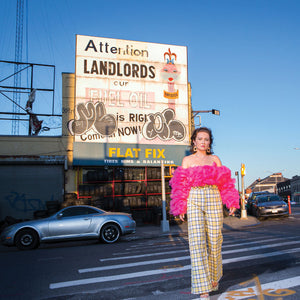 backwoodzstudioz
Fielded - Demisexual Lovelace [VINYL]
Sale price Price $25.00 Regular price
ARTIST: Fielded
ALBUM: Demisexual Lovelace
FORMAT: Vinyl + MP3 (320kbps)
NOTES: This is the Fielded hot pink magenta-colored 12" vinyl. Digital download link will be emailed to the purchaser on the release date. Includes downloads of PDF of lyrics & bonus track of Fielded's single "Valley's & Peaks".
SHIPS: Shipping now!

TRACKLISTING
SIDE A
Talking to Myself
Justus ( ft. Billy Woods)
Liquid Nouns
Everybody's Somebody's Fool
Sherita
SIDE B
Glass Vines
Grasses Sweet (ft. Elucid)
High in a While
Looking for Love in the Anthropocene
The Closer
DESCRIPTION
Demisexual Lovelace, the new album from Brooklyn based artist Fielded, is an intimate exploration of mortality, sex, womanhood and intersectionality. It's a project that questions the nature of our relationships, of love and shame, of the shackles we place on ourselves and each other. This is Fielded's first full-length since 2018 and it is significantly more autobiographical than her past work, inspired by healing modalities such as the group work of recovery, a deepening relationship to herbalism and meditative labor with the earth.
"It's brutally honest love letter to the person that my time in New York City has made me so far," Fielded says, "Most of the songs were written in January 2019 when, during a romantically turbulent time in my life, I had the privilege of spending two weeks alone in the forest with a piano."
This album is a turning point for Fielded, leaving pop behind for a more introspective sound where her voice can truly be experienced in its fullest, most sincere range and timbre. Although she is a producer, Fielded wanted to focus more on the songwriting, so she brought in David Lackner of Galtta Tapes and Blue Jazz TV to co-produce. She also took a step back from drum production on a few songs and asked Willie Green, who also mixed and mastered the album, to step in and make the beats.
Billy Woods appears on "Justus", a song about the bloom of love and the giddy moment before you reveal your true feelings to someone for the first time. Elucid shows out on "Grasses Sweet" a song from the perspective of Mother Earth from the time of the Columbian Exchange until the present.
A thread of heartbreak runs through Demisexual Lovelace like an artery, carrying blood and oxygen to it's disparate parts. The project begins with questions pertaining to traditions like monogamy, parenthood and gender roles during the end of a relationship, but ultimately wanders into parts unknown. There are no answers here. There are, however, a few spells. This album exists as a friend for the lonely, a dance into the minds of overthinking romantics, a hopeful plea for redemption in the eyes of one's higher self and the promise to do better next time.