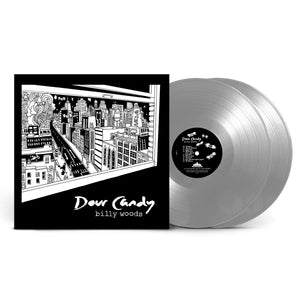 backwoodzstudioz
Billy Woods - Dour Candy Reissue + Instrumental - [2xVINYL - SILVER]
Sale price Price $40.00 Regular price
ARTIST: billy woods
ALBUM: Dour Candy Reissue + Instrumental
FORMAT: VINYL (LPx2) + MP3 (320kbps)
NOTES: This is the billy woods Dour Candy Reissue VINYL. Consists of x2 12" vinyls, one the original version of Dour Candy & the other the instrumental version of Dour Candy packaged in a 12" gatefold jacket WITH ARTWORK BY ASHES 57. Starts shipping by Friday, September 11th, 2020! ALL VINYL ORDERS INCLUDE A DIGITAL DOWNLOAD which will be available upon release of preorders emailed to customers provided email!! (MAKE SURE YOU CHECK YOUR SPAM IF YOU HAVE GMAIL & MARK "BACKWOODZ" AS NOT SPAM!)
SHIPS: Starts Approximately shipping and available for download by Friday, September 11th, 2020. Please be patient as we will ship orders ASAP in order as they are received.
TRACKLISTING
VINYL #1 - MAIN
SIDE A)
Prologue
The Undercard
Gilgamesh
Redacted ft. Elucid
Manteca
Central Park
Poachers
One Thousand One Nights
Tinseltown
SIDE B)
Tumbleweed ft. Aesop Rock
Hack
Fool's Gold ft. Open Mike Eagle, Moka Only & Elucid
Pro Wrestling
Lucre
Cuito Canavale
VINYL #2 - INSTRUMENTAL
SIDE C)
The Undercard Inst
Gilgamesh Inst
Redacted Inst
Manteca Inst
Central Park Inst
Poachers Inst
One Thousand One Nights Inst
Tinseltown Inst
SIDE D)
Tumbleweed Inst
Hack Inst
Fool's Gold Inst
Pro Wrestling Inst
Lucre Inst
Cuito Canavale Inst