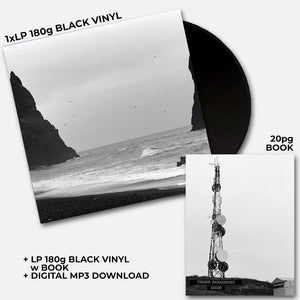 backwoodzstudioz
billy woods - Terror Management [LIMITED VINYL]
Sale price Price $70.00 Regular price
ARTIST: billy woods
ALBUM: Terror Management
FORMAT: VINYL (LP LTD) + AAC (256kbps)
NOTES: This is the billy woods Terror Management LIMITED EDITION VINYL, ONLY 100 MADE! Consists of one 12″ heavy weight 180g audiophile black vinyl (A/B) packaged in a limited edition 12″ jacket with original photographs by Alexander Richter on uncoated stock & individually numbered with silver foil stamp! Also includes a 8"x10″ 20 page book of lyrics accompanied by handwritten marginalia and more oringal photographs by Alexander Richter. All of this is limited to this edition. Starts shipping on Friday October 4th! ALL VINYL ORDERS INCLUDE A DIGITAL DOWNLOAD!! Upon release you will receive a notice email with the the link to your invoice as well as the download link (check your spam if you do not receive!). This purchase allows you two downloads.
SHIPS: Available to ship on October 4, 2019.
TRACKLISTING
SIDE A
1. Marlow
2. Western Education Is Forbidden feat. Fielded
3. That Was Then
4. Windhoek feat. Mach Hommy
5. Long Grass feat. Pink Siifu & Akai Solo
6. Myth
7. blood thinner feat. Lauren Kelly Benson
8. Dog Days
9. dead birds feat. The Funs
SIDE B
10. gas leak
11. Birdsong
12. Great Fires
13. cornstarch
14. FNU LNU
15. Trivial Pursuit
16. Shepard's Tone feat. Fielded
17. Suzerain feat. Fielded
18. Stranger in the Village
DESCRIPTION

On his new album, Terror Management, billy woods weaves past, present and future into a dark tableau as hilarious as it is macabre. This is a place where skeletons spill from closets, lead pours from faucets and the punchline is the whole joke. This is the sound of the police not coming, of garbage trucks in reverse, of glaciers shearing off into a black ocean. But these are also tales of perseverance, compassion and love, however quixotic. Of snatching one's humanity from the fires that rage all about us.
Terror Management features production from Preservation, Blockhead, Willie Green, Messiah Muzik, Small Pro, ELUCID, Child Actor, Steel Tipped Dove, Uncommon Nasa, Jeff Markey and Shape. Together they create a backdrop of seamless fragmentation perfectly suited to these times—this era of cognitive dissonance. Mach Hommy, Fielded, Pink Siifu, Akai Solo, Lauren Kelly Benson (fka L'Wren) and The Funs all make guest appearances.