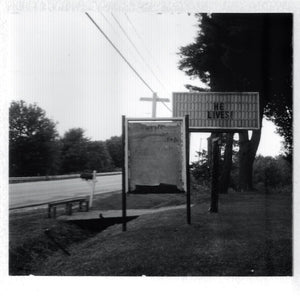 backwoodzstudioz
Billy Woods - Today, I Wrote Nothing - LPx2
Sale price Price $32.00 Regular price
ARTIST: billy woods
ALBUM: Today, I Wrote Nothing
FORMAT: LPx2 (clear vinyl) & MP3 album download.
NOTES: This is the billy woods Today, I Wrote Nothing 2xLP clear vinyl version in gatefold jacket and a download to the digital version of the album.
SHIPS: Now! Download link available in emailed receipt upon purchase!
TRACKLISTING
Lost Blocks f. Elucid
The Big Nothing
Flatlands
Woodhull
U-Boats f. Elucid
Zulu Tolstoy
Warmachines
Carpetbagger f. Elucid
Born Yesterday
Sleep
Scales f. L'Wren
Poor Company f. Elucid & Henry Canyons
Dreams Come True
Bicycles f. Henry Canyons
African Dodger f. Elucid
Lambs
Slow Week
Weeper f. Curly Castro
RPMS
Dark Woods
True Stories
Borrowed Time
Benediction
Good Night
DESCRIPTION
Today, I Wrote Nothing is the first billy woods solo material since 2013's Dour Candy, his critically acclaimed collaboration with New York City producer Blockhead, itself a follow-up to woods' sprawling 2012 masterpiece, History Will Absolve Me.
Still, in keeping with woods' modus operandi, Today, I Wrote Nothing stands apart conceptually from previous work. The album is a collection of short songs and vignettes that form a cohesive meditation on life's journeys and death's hiding places.
Elucid, woods' partner in rap duo Armand Hammer, makes several guest appearances, as does fellow Backwoodz Studioz labelmate Henry Canyons. Equally close to home is the production, provided by a mix of longtime collaborators and friends: Willie Green, Blockhead, Messiah Muzik, Elucid, Steel Tipped Dove, Junclassic, DOSG4W, and Busdriver & Aesop Rock. Additional cameos are by L'Wren, Curly Castro, and DJ Mo Nicklz.
Over this shifting beat collage, woods tirelessly weaves stories and myths in his own inimitable style. The result is a hard-driving road trip of a rap album—music loud, windows down, weight in the trunk. Today, I Wrote Nothing is a powerful statement by one of the genre's most interesting voices.
All photographs by Alexander Richter