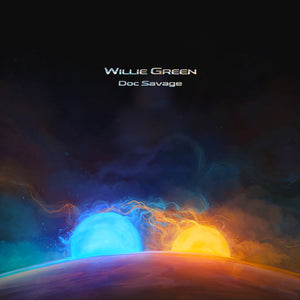 backwoodzstudioz
Willie Green - Doc Savage - CD
Sale price Price $10.00 Regular price $13.00
ARTIST: Willie Green
ALBUM: Doc Savage
FORMAT: CD
NOTES: This is the Willie Green Doc Savage CD with 20page lyric/art booklet
SHIPS: September 23, 2016.
TRACKLISTING
Bronze Intro
The Mental Wizard ft. PremRock & Milo
The Majii ft. Denmark Vessey
The Lost Oasis ft. Henry Canyons, Likwuid & Defcee
The Feathered Octopus ft. ELUCID & Open Mike Eagle
The Land of Always Night ft. Teddy Faley & Corina Corina
Resurrection Day ft. junclassic, PremRock, Warren Britt & Urban Miracle
Bronze Interlude
The Sargasso Ogre ft. BRZOWSKI & billy woods
The Man of Bronze ft. Henry Canyons, Googie & Amy Leigh Richards
Haunted Ocean ft. Curly Castro, Lauren Kelly Benson & Cavalier
The Thousand Headed Man ft. Armand Hammer & Andy Koufax
The Phantom City ft. Zesto, Uncommon Nasa & Barrie McLain
Red Snow Pt. 1 ft. Has-Lo
Red Snow Pt. 2 ft. billy woods
The Yellow Cloud ft. Pastense, Dan Dillinger & Skech 185
Bonus: The Man Who Shook The Earth ft. Ray Will
DESCRIPTION
Doc Savage is the new album from Brooklyn producer Willie Green. Inspired by the retrofuturistic aesthetic of its 1930's pulp fiction namesake, Doc Savage is a hip-hop epic. A classically-trained musician with a resume full of indie-rap bonafides, Green built this album from the ground up, seamlessly melding live instruments into his head-nod aesthetic. He also handled all the sonics from production to mixing and mastering, making this a true labor-of-love. "I wanted to challenge the artists as well as myself, these aren't some regular old beats. I wanted to take a lot of musical chances with Doc Savage, and the results
are wild," Green says. "I spent a long time hand picking each emcee for their particular songs and pairing them together." Doc Savage features some of independent hip-hop's most celebrated voices; Open Mike Eagle, Billy Woods, Denmark Vessey, Milo, Elucid, Has-Lo and Henry Canyons amongst them. The album also includes a beautiful 20-page lyric book featuring paintings acclaimed Canadian artist Graeme Borland. Five years in the making, Doc Savage is truly Willie Green's opus.