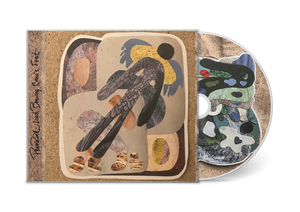 backwoodzstudioz
PremRock - Load Bearing Crow's Feet [CD]
Sale price Price $15.00 Regular price
Starts Shipping: 2/24/22
Format: The CD version of Load Bearing Crow's Feet is the only physical that contains the "Bardo" bonus track featuring billy woods with production by Evidence. Featuring artwork by Big Flowers, it also includes a hand-written 16page lyric booklet and MP3 download of album with "Bardo" bonus track! Only 500 copies pressed, priced at $15/ea. Starts shipping February 24.

DESCRIPTION
Aging is a trip. People wear their years in interesting ways. If you find yourself mining your past through the traces of your face you are certainly not alone. Choosing who you hitch your wagon to can be of utmost importance and at the risk of being reductive, be careful who you fuck with. Remorse is always just a stone's throw away.
Fittingly, this collaboration is a long time coming. The history between New York artist PremRock and Backwoodz Studioz is deep, forged on hardscrabble cross-country tours, late Brooklyn nights, DIY showcases and one very memorable wedding. This long association was formalized with Backwoodz release of ShrapKnel in 2020: a rowdy collaboration between PremRock and Curly Castro that has earned praise from fans and critics alike. PremRock's solo LP
Load Bearing Crow's Feet
is a different animal, pensive and at times poignant, exploring themes as universal as they are evergreen. Bar-stool prophets, weary junkies, timecard punchers and unrepentant grifters all share the same shabby stage, knowing all too well that past is prologue.
Buoyed as always by the redoubtable Willie Green, the backdrop is a diverse collage of the underground's vanguard du jour, led by tracks from Denmark Vessey, Small Professor
, BrainOrchestra, Messiah Musik, Fresh Kils, Zilla Rocca, and Prem himself. A true to form Backwoodz affair features guest vocals from ELUCID, Fielded, Curly Castro, Henry Canyons, as well as AJ Suede and cuts by Marcus Pinn. Art direction by Kyle Tierce of Memetic Supply.

This is not PremRock's first album but it is his most fully realized work, imbued with humanity, wit and rare emotional depth. Load Bearing Crow's Feet is a stirring testimony to an emerging talent, a lifetime in the making.
credits
originally released June 25, 2021

Recorded, Mixed & Mastered by: Willie Green at the Green House
Vinyl Artwork by: Kyle Tierce of Memetic Supply
CD / "Bardo" Artwork by:
Big Flowers
Cuts on "Next Left" and "Joel Osteen" by: Marcus Pinn
All artists appear courtesy of the strength.
TRACKLISTING
Reductive feat. Zilla Rocca & Curly Castro

REMORSE feat. ELUCID

Next Left

Death On the Installment Plan

Apollo Kids Meal

Joel Osteen feat. AJ Suede & Curly Castro

Prairie Burn

FRIENDS

The Shortest Story Ever feat. Henry Canyons

Soft Machinery

Exchange Rate

If On a Winter's Night.. feat. Fielded