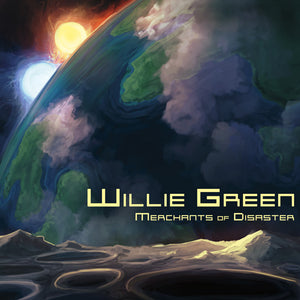 backwoodzstudioz
Willie Green - Merchants Of Disaster 7in
Sale price Price $8.00 Regular price $12.00
ARTIST: Willie Green
ALBUM: Merchants Of Disaster
FORMAT: 7"
NOTES: This is the Willie Green Merchant Of Disaster colored forest green transparent 7" vinyl
SHIPS: September 23, 2016.
TRACKLISTING
Side A
Merchants of Disaster ft. Zesto
The Majii ft. Denmark Vessey
Side B
The Mental Wizard ft. PremRock & Milo
Haunted Ocean ft. Curly Castro, Lauren Kelly Benson & Cavalier
DESCRIPTION
Merchants of Disaster is the companion piece to Doc Savage, a transparent green 7" vinyl featuring three Doc Savage album cuts and the exclusive title track "Merchants of Disaster" featuring Zesto. Also boasting artwork by artist Graeme Borland, Merchants of Disaster is a limited release available only at select retailers or direct from Backwoodz Studioz.