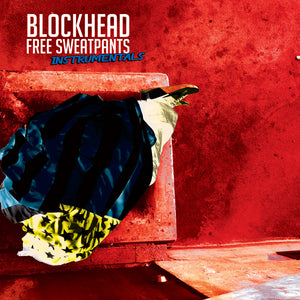 backwoodzstudioz
Blockhead - Free Sweatpants Instrumentals [DIGITAL]
Sale price Price $8.00 Regular price
ARTIST: Blockhead
ALBUM: Free Sweatpants Instrumentals
FORMAT: MP3 (320kbps)
NOTES: This is the Blockhead Free Sweatpants MP3 album digital download. Includes two bonus tracks!
AVAILABLE: Available for download on Friday, June 7, 2019.
TRACKLISTING
Dream on
Slippery Slope
Kiss The Cook
Rock'em Sock Hop
Frank
Weeping Willow
Deeperstill
By Myself Meeting
Be Safe
Favorite Chair
Tinder In The Time of Cholera
Let Them Eat Hate
Blue Veil
Make America Gape Again
All Through The House ft. Curly Castro & billy woods
Kiss The Cook Remix ft. Aesop Rock & billy woods
DESCRIPTION
There are two Blockheads.
There is the Blockhead that has been a fixture of the electronic music scene for more than since his 2004 Ninja Tune debut Music By Cavelight; putting out a string of critically acclaimed albums and touring with everyone from Diplo to Amon Tobin and Kid Koala.
Then there is the rap producer Blockhead, whose collaborations with Aesop Rock-Labor Days, None Shall Pass- are part of indie hip-hop canon. The veteran who collaborated with luminaries like Cage, Illogic and Blueprint but also made memorable records with then little-known artists like Despot and billy woods early in their careers.
Free Sweatpants is the first time the two Blockhead's connect, in what is really the most appropriate form. A mixtape-esque album that pairs his narrative-driven solo aesthetic with a team of rappers that thrive in Blockhead's layered, melodic sound. Aesop Rock, Tree, Breezly Brewin, Open Mike Eagle, Homeboy Sandman, Armand Hammer, Vic Spencer, Hemlock Ernst, MarQ Spekt, and billy woods round out the guest list.
"It's really something I have been wanting to do since way back in 2002 but then other things picked up and I just never got around to it" Blockhead explains, "but I felt like this was a good time for it. These are artists I actively listen to, so it was exciting to make just based on that."