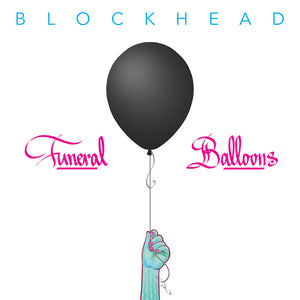 backwoodzstudioz
Blockhead - Funeral Balloons - CD
Sale price Price $12.00 Regular price
ARTIST: Blockhead
ALBUM: Funeral Balloons
FORMAT: CD
NOTES: This is the Blockhead Funeral Balloons CD. Packaged in a 6panel digipak with artwork by Owen Brozman.
SHIPS: Starts shipping on September 7th.
TRACKLISTING
The Chuckles (5:43)
Bad Case of the Sundays (5:10)
UFOMG (5:29)
Zip It (5:02)
Gobsmacked (5:18)
Your Mom Is Mad High (6:48)
Festival Paramedics (7:02)
Cop Rock (4:59)
Uncleback (5:34)
Macgruber (4:11)
Escape From NY (5:28)
Funeral Balloons (6:38)
DESCRIPTION
Funeral Balloons is the new album from acclaimed producer & NYC fixture Blockhead [real name; Tony Simon]. Funeral Balloons is as bold and irreverent as the title suggests; from the uplifting and energetic mood of "A Bad Case Of The Sundays" to the spaced out airy grooves found on "UFMOG" all the way to the 1970's car chase anthem like "Escape from NY", the songs never stop in one place.
While, at it's core, Funeral Balloons doesn't stray far from the kind of music Blockhead has been making since his debut Music by Cavelight, his evolution as a producer is on full display, exploring different avenues and sounds with every new release and continuing to forge his own lane between the worlds of hip-hop and electronic music.