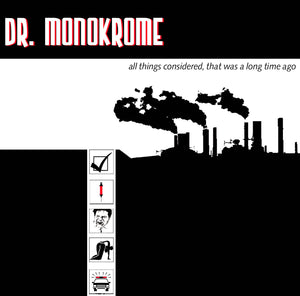 backwoodzstudioz
Dr. Monokrome - all things considered, that was a long time ago - CD
Sale price Price $12.00 Regular price
ARTIST: Dr. Monokrome featuring billy woods, Priviledge & Thrill Gates
ALBUM: All Things Considered, That Was A Long Time Ago
FORMAT: CDx2 (Two CDs in jewel case with insert)
NOTES: Resurrected deep from the Backwoodz Studioz vaults...
After carving out a niche as one-half of genre-busting production duo Aerotaxi, DR. MONOKROME strikes out for himself with a double EP. And he strikes out boldly, laying down two entirely different soundscapes for two different groups.
All things considered
NPR is Network Pirate Radio, meaning Illadelph's boy wonder Priviledge on the mic and Dr. Monokrome on the boards. With richly layered and daringly experimental production, this disc also serves notice on Priviledge's skill on the mic, as he holds it down without any guest MC's. All things considered points out a new direction in hip-hop while pausing to pour out some malt liquor on Philadelphia's streets.
That was a long time ago
M.A.D. is Mutually Assured Destruction, the duo, Thrill Gates and billy woods, that have been with
backwoodz studioz since the beginning. Gates and woods rhyme their way through time while the good
DR. MONOKROME serves up a platter of sparse, hybrid beats and haunting melodies. The emcees ignore
convention and create a darkly entertaining vision of the present after riding roughshod over the past.
SHIPS: Now!