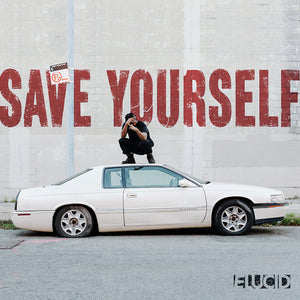 backwoodzstudioz
ELUCID - Save Yourself - CD
Sale price Price $11.00 Regular price $13.00
ARTIST: ELUCID
ALBUM: Save Yourself
FORMAT: CD
NOTES: This is the ELUCID Save Yourself CD
SHIPS: April 14, 2016.
TRACKLISTING
A 1000 Faces feat. Psychic Twin
Obama Incense (prod. by Messiah Musik & Elucid)
Burnt Sugar feat. Psychic Twin
Cold Again
Blame The Devil (prod. by Bkgd Audio)
Bleachwater feat. Billy Woods
If You Say So
Can't Keep It To Myself
NY Blanks feat. Psychic Twin (prod. by Willie Green)
Jealous God
No Such Thing
MBTTS (prod. by A.M. Breakups)
No Grand Agenda (prod. by Small Pro)
Lest They Forget feat. billy woods
Son Still Shine
Wake Up Dead Man
Skinny Luther (CD VERSION ONLY)
DESCRIPTION
Save Yourself is the debut solo album from rapper/producer ELUCID, New York's best-kept secret. He's worked with some of indie hip-hop's most celebrated artists, like Open Mike Eagle, Tanya Morgan, billy woods, Beans from Antipop, milo, J*Davey, Busdriver, Small Professor and Rob Sonic. ELUCID has released critically-acclaimed collaborative projects as Armand Hammer with billy woods, and as Cult Favorite, with A.M Breakups, but Save Yourself represents a new chamber from a breakthrough artist. The album is largely self produced with additional production by Willie Green, A.M. Breakups, Messiah Musik and more.