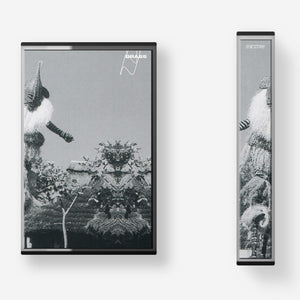 backwoodzstudioz
Moor Mother & billy woods - BRASS [GENG-CASSETTE]
Sale price Price $16.00 Regular price
TRACKLISTING
Furies (produced by Willie Green, additional instrumentation by Sons of Kemet)
2. The Blues Remembers Everything The Country Forgot feat. Wolf Weston (of Saint Mela) (produced by Willie Green, additional instrumentation by Sons of Kemet)
3. Maroons feat. Imani Robinson & Amirtha Kidambi (produced by Olof Melander)
4. Rapunzal (produced by Child Actor)
5. Arkeology feat. ELUCID (produced by Preservation)
6. Blak Forrest feat. Fielded (produced by Child Actor)
7. Gang for A Day feat. Franklin James Fisher (produced by Steel Tipped Dove)
8. Mom's Gold (produced by Moor Mother, trumpet by Aquiles Navarro)
9. Chimney feat. Mach Hommy (produced by Messiah Muzik & Steel Tipped Dove)
10. Rock Cried (produced by Olof Melander)
11. Scary Hours feat. John Forte (produced by Preservation, additional production by John Forte)
12. Guinness (produced Navy Blue)
13. Tiberius feat. ELUCID (produced by Child Actor)
14. Giraffe Hunts (produced by The Alchemist)
15. Portrait feat. Navy Blue (produced by Child Actor)
DESCRIPTION
BRASS is a collaborative album from experimental musician and poet Moor Mother and the rapper billy woods (½ of Armand Hammer). After working together on Armand Hammer's critically acclaimed 2020 LP Shrines, Moor Mother and woods released the song "Furies" for the Adult Swim single series in July. A whirl of interweaving allegories spun over producer Willie Green's hypnotic flip of a Sons of Kmet sample, "Furies" was the burning arrow that both artists followed, the first crack of thunder in a blackening sky.
Brass is an alloy of copper and zinc, in proportions which can be varied to achieve varying mechanical and electrical properties. It is a substitutional alloy: atoms of the two constituents may replace each other within the same crystal structure.
BRASS sees both artists joined by an eclectic array of friends, family, and legends- in some cases all three. John Forte, ELUCID, Amirtha Kidambi, Franklin James Fisher (Algiers), Mach Hommy, Imani Robinson, Wolf Weston (Saint Mela), Navy Blue, and Fielded all lend their voices to the project. Production by The Alchemist, Preservation, Moor Mother, Olof Melander, Child Actor, Navy Blue, Messiah Muzik, Steel Tipped Dove, and Willie Green.
Brass has long been a popular material for decoration because of its resemblance to gold. It has low friction properties and acoustic properties, which make it one of the most popular metals to use when making musical instruments. It is commonly used as a decorative metal because of its resemblance to gold. It is also germicidal which means it can kill microorganisms on contact.
BRASS is a moment where two great artists in their own right tap into a new frequency together. Even for those familiar with both it's an unexpected sound that, once heard, could never have been otherwise. It is both ethereal and utilitarian, timeless and timeworn. A cast iron pot propped over a fire in the dark. A tropical beach shimmering with broken glass.
Brass is often used in situations in which it is important that sparks not be struck, such as in fittings and tools used near flammable or explosive materials.