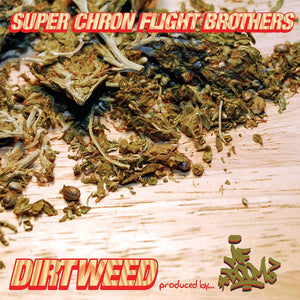 backwoodzstudioz
Super Chron Flight Brothers - Dirtweed - 12" vinyl
Sale price Price $15.00 Regular price
ARTIST: Super Chron Flight Brothers
SINGLE: "Dirtweed" b/w "Panama Red"
FORMAT: 12" VINYL single
NOTES: Featuring billy woods & Privilege of Super Chron Flight Brothers. An oldie but a goody. Lead single is "produced" by MF DOOM and worth it for the instrumental alone but the two songs on the flip side, including the bonus cut "Circus Maximus" featuring Vordul Mega, deserve just as much attention. Been out of print here for a while, so this box was a nice find. Only 60 available!
SHIPS: NOW!
TRACKLISTING
SIDE A
Dirtweed (produced by MF DOOM) - clean
Dirtweed (produced by MF DOOM) - dirty
Dirtweed (produced by MF DOOM) - instrumental
SIDE B
Panama Red (produced by Essex Dogs & Billy Bodega) - clean
Panama Red (produced by Essex Dogs & Billy Bodega) - dirty
Circus Maximus feat. Vordul Mega (produced by Marmaduke & BOND) - dirty