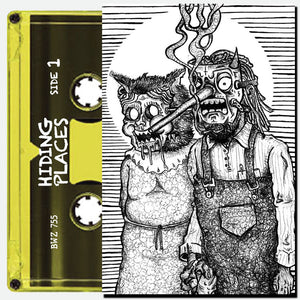 backwoodzstudioz
woods + segal - Hiding Places [CASSETTE]
Sale price Price $15.00 Regular price
ARTIST: billy woods + Kenny Segal
ALBUM: Hiding Places
FORMAT: CASSETTE (LP)
NOTES: This is the woods + segal Hiding Places CASSETTE, which includes exclusive art by Colin Luce and features a yellow tint shell.
SHIPS: NOW
TRACKLISTING
SIDE A)
spongebob
steak knives
checkpoints
spider hole
Houthi
a day in a week in a year featuring MOTHERMARY
SIDE B)
bedtime
crawlspace* featuring ELUCID
speak gently featuring Self Jupiter
toothy
bigfakelaugh
red dust
DESCRIPTION

Hiding Places is a collaborative album from Brooklyn-based rapper billy woods and Los Angeles beat scene veteran Kenny Segal, set for release by Backwoodz Studioz on March 29, 2019. On its face, it seems an unlikely pairing; woods—who moonlights as ½ of dissonant rap duo Armand Hammer—is a chaotic force, the warped relic of an NY indie-rap wave that never happened. Meanwhile, Segal has been in L.A. for twenty years; from paying dues with Project Blowed to pushing the culture forward with Busdriver and Milo. All the while, his soulful, dreamlike production precariously tethered to earth by the right drums or rumbling bass.
But look closer and it makes more sense. After all, Segal lent his production to a couple of songs on Paraffin, Armand Hammer's critically-acclaimed opus, and the two artists have more than a few shared collaborators: Open Mike Eagle, ELUCID, and Hemlock Ernst amongst them. Hiding Places finds both artists deep in the labyrinth. Segal's lush soundscapes have a new edge, woods' writing is, paradoxically, at its most direct. Hiding Places is a child's game: funny and cruel, as brutal as a fairy tale. The album features contributions from both artists' well of collaborators with ELUCID, Self-Jupiter, and MOTHERMARY making appearances.
Kenny Segal had a busy 2018, dropping the jazzy Casual Horns, Dog with Mr. Carmack and Mike Parvizi, Kenstrumentals Vol. 3 (Dome of Doom), a beat tape of deftly chopped samples and knocking, unquantized percussion, and then blew everyone away with happy little trees (Ruby Yacht) a remarkable solo LP. woods kept a lower profile but still made waves as Paraffin was widely lauded as among the year's best albums. Hiding Places is woods' first solo project since 2017's Known Unknowns.