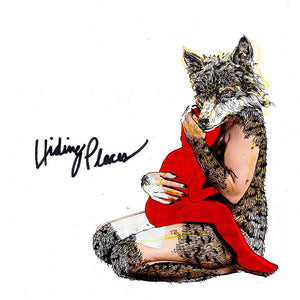 backwoodzstudioz
woods + segal - Hiding Places Reissue + Instrumental [2xVINYL]
Sale price Price $40.00 Regular price
ARTIST: billy woods + Kenny Segal
ALBUM: Hiding Places Reissue + Instrumental
FORMAT: VINYL (LP) + MP3 (320kbps)
NOTES: This is the woods + segal Hiding Places Reissue VINYL. Consists of x2 12" vinyls, one the original version of Hiding Places & the other the instrumental version of Hiding Places packaged in a 12" gatefold jacket WITH ARTWORK BY M. MUSGROVE @ grade.B. Approximately shipping by Friday, March 28th, 2020! ALL VINYL ORDERS INCLUDE A DIGITAL DOWNLOAD which will be available upon release of preorders emailed to email on file!! (MAKE SURE YOU CHECK YOUR SPAM IF YOU HAVE GMAIL & MARK BACKWOODZ AS NOT SPAM!)
SHIPS: Approximately shipping and available for download by Friday, March 28, 2019.
TRACKLISTING
VINYL #1 - MAIN
SIDE A)
spongebob
steak knives
checkpoints
spider hole
Houthi
a day in a week in a year featuring MOTHERMARY
SIDE B)
bedtime
crawlspace* featuring ELUCID
speak gently featuring Self Jupiter
toothy
bigfakelaugh
red dust
VINYL #2 - INSTRUMENTAL
SIDE A)
spongebob
steak knives
checkpoints
spider hole
Houthi
a day in a week in a year
SIDE B)
bedtime
crawlspace
speak gently
toothy
bigfakelaugh
red dust