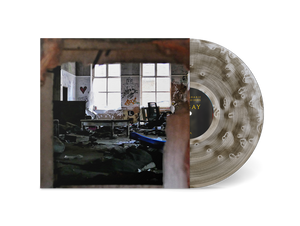 backwoodzstudioz
Fatboi Sharif x Steel Tipped Dove - Decay [VINYL]
Sale price Price $30.00 Regular price
Format: 12" 140g ghostly splatter transparent vinyl in a standard jacket with photography from Tim Fish. Purchases from Backwoodz includes digital download.

Decay, the new album from New Jersey rapper Fatboi Sharif and producer Steel Tipped Dove, is an anomaly. In an era of microwave projects and email collaborations, the duo spent more than a year writing, recording and mixing Decay together in Dove's Brooklyn studio. At a moment when many independent hip-hop projects are sonically predictable, easily categorized, and derivative, Decay is unapologetically experimental. Love it or hate it, it doesn't sound like any other record out. Add to all that the fact that, bucking the trend of feature-laden rap records, there isn't a single guest appearance on Decay. This album is a one-of-one, handcrafted from the ground up by two of the genre's most esoteric artists, under the umbrella of indie rap's preeminent record label.

In October 2020 Dove got in touch with Sharif after hearing Gandhi Loves Children, Sharif's project with Roper Williams. 
"I really liked the experimental writing he was doing. The whole vibe was different from the beat choices, the visuals, the lyrics — all unique," Dove explains. The two of them linked up and hit it off immediately.
"In the first session we had made two songs that ended up being some of the best work on the album," Sharif says, "and as we worked on it we knew we had something special that we weren't hearing anywhere else and we kept building on that"
Sharif found himself digging deeply in order to write, which he credits to Dove's attention to detail and ability to push the boundaries sonically. "Dove's production  kept me in the zone to touch on stories that I never touched on in my past work, from personal situations tucked away that I thought I wasn't ready to unveil yet, to convos we just would have regarding the state of everything going on in the world and beyond"
For his part, Dove was  consistently impressed by the young artists' dedication, as well as his ear for the unusual. "It was almost like a challenge to him, if I had a beat that no one had chosen, or that had kinda strange timing, he would almost always choose that one"
This is Koyaanisqatsi via Rahway, New Jersey. A winding nighttime drive along the narrow, rutted paths of a damaged psyche, dead deer watching from the roadside. Decay is a candlelit spades game in the parlor of a dilapidated mansion, eviction papers pasted atop one another on the front door. A black Woodstock in the wetlands, blotter acid in the headband, as ELUCID might say. Together, Sharif and Dove just flipped on the power to a carousel in the middle of an abandoned amusement park, and every horse has a rider, spinning and spinning in the dark
"Sometimes in life, we feel held down, tested and sought after by an unseen force that we can't fully explain," Sharif muses, "this album is a trip into the foundation of the dysfunction that surrounds us all in one way or another"
TRACKLISTING
(vinyl is slightly different than CD & digital)
SIDE A
Phantasm

East Hollywood 

Designer Drugs

Brandon Lee

Dimethyltryptamine

Ash Wednesday

(Interlude)

Prisoner Of JesuS
SIDE B
Think Pieces

Kingdom

Measuring Spoon Techniques

Green Winged Shoulder Padding

The Christening 

The 6th Floor

Scarhead

Boogie Monster

The Farewell Outfit